Compact Size
One of the smallest on market
Even with its weather sensor compartment takes up a decent space, BalliRanger 1500L is still one of the small sized rangefinders on the market.
BC Ballistics
G1 - G7 BC input, suitable for all types of projectiles: bullets, pellets even balls. Wide range of muzzle velocity: supersonics and subsonics.
Quick Gun Profile Upload
5 Rifle and scope setups are stored in the BalliBot Ballistics APP, it can be quickly upload to the BalliRanger via Bluetooth connection.
Live Weather Sensor
Waterproof sliding door for better protection, instantly measure the Air Pressure, Temperature and Humidity for accurate ballistics calculation..
Wind Speed and Direction Iput
Ergonomically designed buttons operation and easy to read wind direction arrow display enable quick wind data input for windage ballsitics.
Scope Magnification Input
The true unit magnification power and current mag power of the scope can be quickly input through well designed buttons operation.
Reticle Ellevation & Windage
The ballistics holdover results can be converted into scope reticle ellevation and windage value at current mag with the previous step mag data input.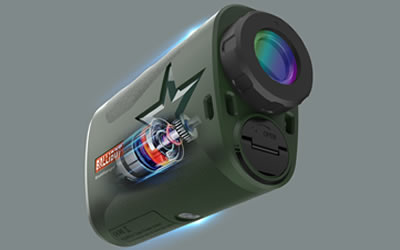 Soft Hand Grip
Comfortable & Reliable.
Compact sized body, durable and soft injected plastic hand grip layer, curve shaped finger dents enables copmfortable and non-slippery grip.
3 Integrated Buttons
One Hand Operation
3 buttons are plastics injected together with the soft hand grip as a single part, enables one hand easy button operation.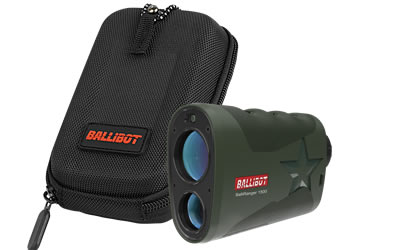 Hard EVA Case
Better Protection
Hard EVA Case with zipper gives the BalliRanger 1500L better protection against dust and damage.
BalliBot Ballistics Calculator
Born for accuracy
4 DOF algorithm
Includes the bullet's movement about its center of gravity and angle relative to its line of flight for greater accuracy.
3DOF & 4DOF Switchable
Advanced 4DOF mode for extreme long range projectiles, basic 3DOF mode for regular shooting and hunting.
5 gun profiles
It stores 5 gun and scope setup profiles for multi weapon system users, easy and convenient to switch devices.
G1 to G7 BC built-in
Ballistic Coefficient calculations of G1 standard and G7 long range bullet shapes, also the GA for airgun diabolo pellets.
BC Upload
Upload the Ballistic Coefficient input to all BalliBot hardwares such as laser rangefinders, avoid troublesome setups.
Hands free operation
Select a gun profile and upload to a Ballibot device once, then the phone is nolonger used for ballistic calculation.
BalliRanger 1500 Specs
OPTICS
MAGNIFICATION
7X
OBJECTIVE LENS DIAMETER
24mm
LASER LENS DIAMETER
17mm
FIELD OF VIEW
6.6°
EYE RELIEF
15mm
RANGE
1500M
ACCURACY
±0.5M
ELECTRONICS
LASER WAVE LENGTH
905nm
LASER DIVERGENCE
1.3 MRAD
BATTERY
CR2 x 1
DISPLAY TYPE
HI CLARITY LCD
BUTTONS
3
BLUETOOTH
YES
VIBRATION MOTOR
YES
BALLISTICS
APP GUN PROFILE UPLOAD
YES
WEATHER SENSOR
YES
WIND SPPED INPUT
YES
WIND DIRECTION INPUT
YES
SCOPE MAG INPUT
YES
BALLISTICS RESULTS
YES
RETICLE CALCULATION
YES
STRUCTURE
WATERPROOFING
IPX-3
WEIGHT
190g
DIMENSIONS
10 x 10 x 10 (mm)